June Is National Healthy Homes Month
This June marks the kick off of the U.S. Department of Housing and Urban Development's (HUD) Office of Lead Hazard and Control and Healthy Homes (OLHCHH) second annual National Healthy Homes Month. Throughout the month, the goal is to raise awareness of what makes a home healthy and to strengthen coordination and collaboration between housing and health at federal, state, and local levels.
A healthy home is one that provides a safe and healthy environment protecting the occupants from disease and injury. Almost 6 million U.S. homes have moderate to severe physical infrastructure problems — such as water leaks and intrusion; injury hazards; pests; and heating, plumbing, and electrical deficiencies. In addition,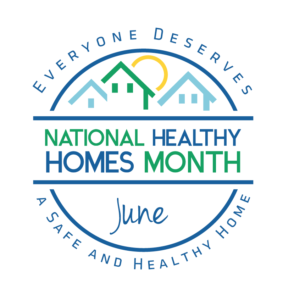 OLHCHH estimates that approximately 30 million homes have indoor environmental hazards, including physical safety hazards, lead-based paint, and pests. The OLHCHH has designated June as National Healthy Homes Month in order to create awareness around housing and its impact on health on the national and local level; the encourage organized, local community events; and to empower families to take action.
National Healthy Homes Month is designed to create awareness about and promote action around health and safety hazards in the home, and to empower families to learn how to create the healthiest home possible for their family. The month also highlights federal and local resources that are available to make a difference in the places where families live, play, and grow.
"National Healthy Homes Month serves as an important educational call to action," said Jon L. Grant, Director of HUD's OFHCHH. "Providing families with resources they need to keep their homes safe from potential health hazards such as lead-based paint and pests help them to create the healthiest home possible."
To learn more about healthy homes visit, www.hud.gov/healthyhomes or healthyhomes.ces.ncsu.edu. Also, follow the NC State Extension Healthy Homes program on Twitter @nchealthyhomes
Was the information on this page helpful?
This page can also be accessed from:
go.ncsu.edu/readext?468988